Shankar Iron Engineering Works (P) Ltd.
is one of the oldest manufacturer of Grey Iron Castings in INDIA as it came into existence in the year 1961. Being one of the pioneers and leading manufacturers and exporters of Cast Iron products, the company has been making both precision and heavy duty items confirming International Standards.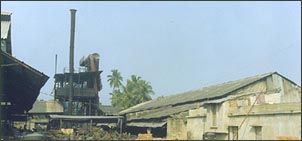 We produce castings as per customer specification. We purchase scrap , pig iron & all metal alloys from standard manufacturers .We test all our inputs as well as our output for quality satisfaction of the customer.We produce castings in hand moulding as well as machine moulding & shell moulding The company strictly adheres to the quality specifications and delivery schedule.
We are proud to say that we are currently having a manufacturing capacity of around 100 M.T of castings per month. Today the company has its own inbuilt R&D department and the total staff of more than 75 persons. The company is all geared up to execute export orders since it has all the infrastructure required for it.